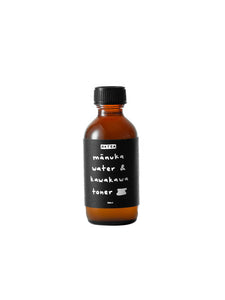 マオリハーブ*1,2の恵みがギュッと詰まった、リッチなトナー。

【肌悩み】 ◎肌荒れ ◎ゆらぎ肌

【商品説明】
マヌカの葉から抽出したマヌカウォーター*1が肌の水分と油分を補って保ち、肌をバリアしてくれます。さらにカワカワの葉から抽出したカワカワエキス*2が紫外線ダメージによる乾燥や肌荒れを防ぎます。
トナーで肌を整えた後、AOTEA クリームで、さらにうるおいを与えることがおすすめです。

*1 ギョリュウバイ枝/花/葉水:整肌成分、肌保護成分
*2 マクロピペルエクセルスム葉エキス:肌保護成分、保湿成分

【マオリハーブ】 マヌカ カワカワ

【香り】 清涼感あるハーブの香り

【使用方法】
肌を清潔にした後、容器を軽く振ってから適量を手にとり、軽くパッティングしながら顔から首元にかけてなじませてください。朝は洗顔代わりに、ふき取り化粧水としてもご使用いただけます。

【容量】 100ml

【全成分】
水、マクロピペルエクセルスム葉エキス、ギョリュウバイ枝/花/葉水、グルコノラクトン、安息香酸Na、セージ油、グリセリン、キサンタンガム

【原産国】 ニュージーランド
This toner is a soothing and balancing complex. Primarily made up of Mānuka water and Kawakawa water, the slightly astringent and PH balancing qualities of Mānuka water close the pores on your face and also lightly cleanse. Further, the Kawakawa water's properties can take away morning redness and calm the skin. The water balance will make you feel fresh, close the pores and provide a healthy PH level for your skin.
Ingredients: Manuka Leaf Infused Water, Kawakawa Leaf Infused Water, Glucono Delta Lactone, Sodium Benzoate, Sage Oil, Organic Vegetable Glycerin, Xanthan Gum